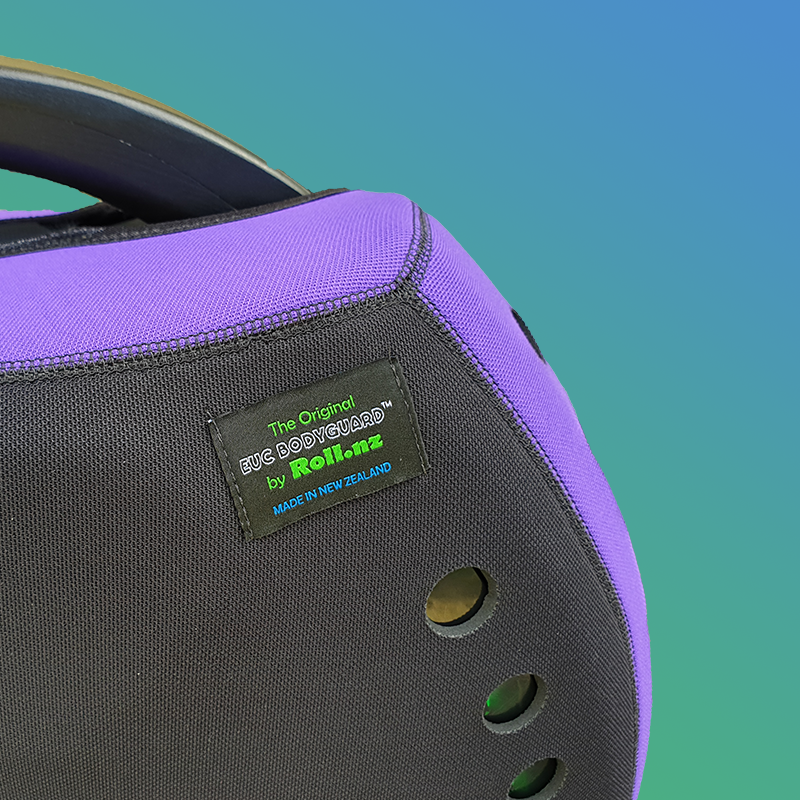  
EUC Bodyguard for KS-18L and KS-18XL
The first premium electric unicycle protective cover, the EUC Bodyguard is tailored to fit your EUC like a glove - retaining the awesome look of your wheel but adding a significant layer of protection to maintain the value of your prized electric unicycle!
Manufactured from reinforced neoprene, then triple-stitched and bound for maximum strength the EUC Bodyguard is the only product available that will protect your wheel from both scratches and impacts (within reason).
Check out our video to see how easy it is to fit the EUC Bodyguard.
Note 1: Does not include the EUC shown in photos.
Note 2: International sales of the EUC Bodyguard will not be required to pay GST, local taxes may be required to be paid by the purchaser before delivery is completed.
Available in all black, or black with an optional coloured accent...
Regardless of how long you have been riding, sooner or later every rider will fall. And whether your wheel is "completely pristine" or "extremely well loved" this is the best way to protect your investment from as much damage as possible.
Tailored for the King Song 18L and 18XL wheels, this EUC Bodyguard maintains the sleek lines and features of your wheel without compromise;
  •  Easy fitting and removal whenever required
  •  Quick fastening for simplicity and security
  •  Cut-outs for the charging port, power button, light sensor and front / rear lights
  •  Designed for visibility of LED side lights
  •  Included speaker cut-outs for optimum sound reproduction
Rated
5.00
on the scale
1
-
5
based on
3
customer reviews
Quality
A functional piece of art is all that needs to be said !
Worth every penny!
If only I'd known about these when I bought the wheel, before multiple iterations of it sliding across the asphalt and tumbling down dirt trails…!!!<br /> <br /> After using it for about 8 months, I can say without any doubt that this thing is excellent quality—both in terms of materials and craftmanship. Any durability-related concerns I may have had before buying were clearly unfounded. The neoprene is extremely durable, it's taken some nasty falls on rugged dirt trails, slid across the asphalt at 45 km/h, and aside from getting dusty, there are no visible signs of damage whatsoever on the sleeve (nor the wheel, of course).<br /> <br /> The stitching and seams are also excellent. I can't envision having any issues with those any time soon (or at all...). The sleeve is extremely easy to put on (the system that keeps it in place is very straightforward & ingenious), it fits snugly and stays in place (it doesn't move around when gripping the wheel to accelerate, brake, etc.), the texture doesn't have a negative effect on grip (no slippage, but rather the opposite), the holes for the LEDs coincide to perfection, and it looks very sexy too, if you ask me! <br /> <br /> Aside from the physical protection, I've also found that it provides a great deal of peace of mind too: it's a nice feeling to be able to ride without worrying about the wheel getting all scratched up. <br /> <br /> Overall, I find it to be an excellently built product than more than justifies the price. These are pricey machines we ride, and although well built, they do take their fair share of abuse, and new shells are expensive, so IMHO, the EUC bodyguard is worth every penny in terms of keeping the wheel safe from damage and looking pristine.<br /> <br /> Before buying, I thought the price tag was a bit high but in view of how well it protects the wheel and how well made it is, not only would I not hesitate to buy again, but directly wouldn't use a new wheel without fitting one of these on from day 1; in fact, I ordered a bodyguard for my 16X before I'd even received the wheel :-) <br /> <br /> Attached are a picture of the wheel before and after getting the bodyguard; to think of all the scratches I could have prevented if I'd know about the EUC BG beforehand...but as it turns out, the BG works great for hiding the battle scars too! ;)
Protect your investment
The protection you get with this euv bodyguard is the best I've ever seen quality of material is top-notch quality of workmanship excellent service and shipment was quick very happy would highly recommend the investment to protect the bigger investment
You might also like